On a small sliver of the former Savanna Army Depot, an eastern Iowa company is planting the seeds for a renewable energy complex — beginning with a solar farm.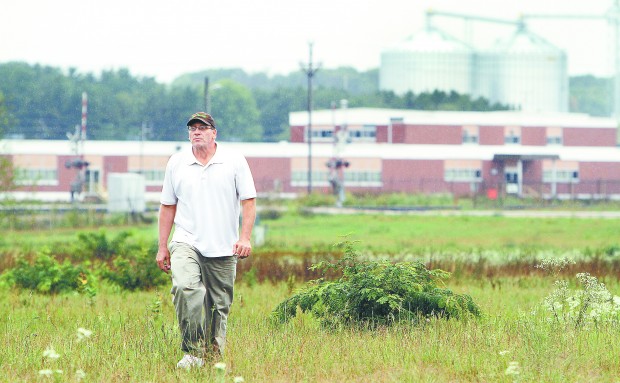 James Law of SolRWind walks through an area where his
company plans to build a solar farm at the Savanna Depot
Technology Park located North of Savanna, Illinois Sunday
August 26, 2012
Located among the wild prairie grasses and rural expanse that for generations was an active munitions depot, SolRWind Corp. plans to build a
1-megawatt hour solar farm. The site, now part of the Savanna Depot Business, Industry and Technology Park, will serve as a demonstration site for some of SolRWind's own technology, said James Law, the Clinton-based company's president and chief executive officer.
"This will be one big test field for solar mounts that SolRWind patented," said Law, who founded the startup in 2008. A mount is the apparatus on which a solar panel is attached.
The project's first phase, to be called Karla's Solar Farm, will span 4.5 acres of the 13,000-acre business park. After a Sept. 19 groundbreaking, Law said construction will continue through the winter with the farm producing energy by next spring.
"We're excited by the depot site because we saw the opportunity here to make a positive difference for an area that needs economic development badly," Law said.
But the solar farm is just the first of several renewable energy projects that SolRWind hopes to develop at the business park, located 7 miles north of Savanna. "We hope to create a big farm that is the research facility for renewable energy," he said.
Solar farm is Phase 1
The $5 million solar farm will kick off the development. It will boast 3,600 solar panels — all built on the special mounts developed by SolRWind. The energy produced will be for SolRWind's own consumption initially.
SolRWind's future plans call for redeveloping six other vacant buildings and a brick barn on the property to establish manufacturing and training operations.
Law said the company will convert one of several former army barracks buildings into an assembly facility for SolRWind's future solar modules. Another building will house assembly for the seasonal adjustable ground mounts, which eventually would be sold commercially. The same types of mounts are being installed at the solar farm.
The company's unique mount design allows for gaps between each solar module, which will allow the energy captured to go around the panels and escape. That will keep the panels cooler and more efficient, he said. Another part of the design allows for easier and quicker installation.
Eventually, the farm will produce 14 megawatt hours of clean energy. Law said the project received $800,000 in grant funding from the Illinois Office of Energy Independence and Regional Economic Development, which is part of the Illinois Department of Commerce and Opportunity.
Construction on the second phase — Phil's Solar Farm — is scheduled to begin late next spring and be completed by fall 2015.
The site and family ties
Law said the company selected the former depot, in part, due to his family ties to the region. "My grandpa packed bombs here at the depot, and my grandma took them into the igloos (munitions storage facilities). My heart belongs to the region here."
The solar farm will sit on a parcel of land owned by Savanna Stable LLC, led by managing member Scott Lombardo of Galena, Ill. Lombardo, who manages the University of Chicago's Business School on behalf of U.S. Equities, is one of several private land owners at the depot. "I bought the property after falling in love with the barn," he said.
The land owners have purchased acreages controlled by the Jo-Carroll Depot Local Redevelopment Authority.
The area where the solar farm will be installed has been determined to be "an Indian encampment area, not a burial ground," Lombardo said. As a result, "We can't dig there without permission of the Illinois Historic Preservation Agency."
But the solar farm is a good fit because the mounts are designed to sit atop cement slabs on the ground.
Also on Savanna Stable's property are six former army barracks — which he and SolRWind want to bring back to life. During a recent tour, he said "Some of those roofs could accommodate solar as well."
Lombardo said he was intrigued by SolRWind's plans because he believes strongly in renewable energy.
"Solar has not been competitive because all the other types of energy are being subsidized," he said.
Related projects
Walking through one of the abandoned army barracks, Law talked of his long-term vision for converting three of the circa-1940 buildings into apartments. He plans to invest $1.5 million into converting the barracks into 21 apartments, which could house his future work force as well as for renewable energy students he wants to bring on site.
Three other vacant buildings and the barn on the site would house SolRWind's manufacturing and assembly operations, a training facility, and research and development. Law said these facilities would require another $1.5 million investment.
His plans are to establish a renewable energy institute within two years to train students in renewable energy, particularly solar energy. Those students could then become employees of SolRWind.
The company, which also is pursuing plans for manufacturing in Clinton, hopes to employ 180 people within three years.
Also energized by SolRWind's plans is Mara Roche, the executive director of the Jo-Carroll Depot Local Redevelopment Authority, which is responsible for promoting the redevelopment of the depot business park. Of the 13,000 acres, she said only about 1,000 acres have been transferred to the authority from the U.S. Army, which is in charge of the site's environmental cleanup.
Since the depot was closed as part of the 1995 Base Closure and Realignment Commission process, Roche said there have been many interested projects and ideas for the site — but few have come to fruition. To date, nearly a dozen tenants have purchased property in the park and are operating businesses or pursuing future projects.
Having the solar farm's clean energy source on site could help make up for the fact that the depot lacks natural gas.
"I'd like to be able to power our own tenants with the power of that solar," said Roche, who has led the authority — established by Jo Daviess and Carroll counties — for the past 11 years.
The lack of natural gas has been a stumbling block, she said. "We've had several interested parties but when it came down to it, they couldn't do their business without natural gas."
When the depot was operating, it had its own steam-generated heating plant, Roche said. But costs and logistics stalled bringing natural gas to the site, which would make it more marketable. The nearest gas line is in Savanna or across the Mississippi River.
Roche also hopes the park can look at developing itself as a green, eco-park — attracting tenants in the emerging field. "I hope SolRWind could be an anchor to bringing other renewable energy projects here. But it all takes time and patience," she said.
Spin-off work
Law said the solar farm will create 25-30 short-term construction jobs as well as two permanent technician jobs when the farm is operational.
In the meantime, SolRWind's solar farm is creating business for other companies, including Lincolnway Welding Inc., in Clinton. Owners Keith and Jeanette Kube said their company will build the SolRWind mounts to be installed at the new solar farm.
Building the farm will be Thayne Good of Good Construction and Chad Behrens of Burke Electric, both in Clinton.
"Hopefully, they are going to be a large customer," said Keith Kube, whose business is creating a new division based on the potential solar work. "Our new facility in DeWitt (Iowa) is where these are going to be made."
In fact, Jeannette Kube said they will be adding jobs once the production gets in full swing. "We're really excited by this. It's a dream come true and going to produce work for other people and additional work for other companies."
The couple bought a second building five years ago — right before the bottom fell out of the economy — and it has sat vacant. "This is a good opportunity for us to put it to use," her husband said.
When SolRwind's own assembly and manufacturing operations come online, Law wants to focus on recruiting a work force of disabled veterans. He intends to use robotics in the assembly plant to allow that to happen.
Injured himself as a teenager after breaking his back, he said that kept him from joining the armed forces. Hiring veterans, he said, "is my way of giving back since I couldn't contribute to the military myself."
He also is focused on training new students in renewable energies to employ them and advance his other solar energy operations. "I want to put those students to work because we need to retain their brain power here."
Source: http://qctimes.com/news/local/solar-farm-sprouts-at-defunct-savanna-munitions-depot/article_2738a99c-fa36-11e1-8f97-0019bb2963f4.html?comment_form=true