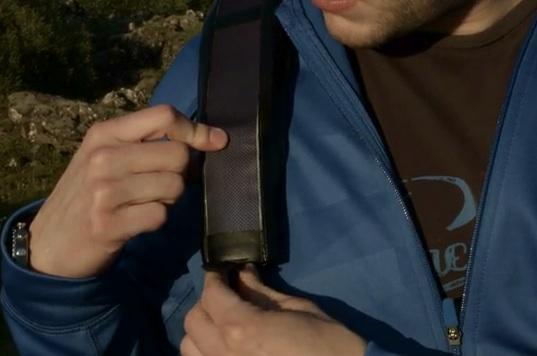 The Sun Strap uses a fabric fastener to attach to a backpack strap.
A Minnesota startup has launched a mobile-device-charging solar panel that can be mounted on backpacks, camera straps, bicycles or anywhere else the fabric fastener can reach.
Clarkfield-based Skajaquoda Group Inc, which is also developing a portable, wind-powered generator, added their Sun Strap solar charger to Kickstarter this weekend.
The Sun Strap is a light, flexible solar panel with a rechargeable battery that attaches to the strap of a backpack or over-the-shoulder bag. It has a USB charger for smartphones, cameras or tablet devices. You can also plug the lithium-ion battery in at home to charge it up before heading out.
Skajaquoda says the battery holds more than four charges for a GoPro Hero 3 camera, three charges for an iPhone 5, two for a Samsung Galaxy S3, and one charge for an iPad mini.
The Kickstarter campaign is more than 10 percent of the way to its September target of $15,000. Contributors need to pledge at least $49 to get a Sun Strap.
CEO Einar Agustsson and Vice President Agust Agustsson, the Icelandic brothers who started Skajaquoda, say they hope to deliver the products in December.
"When we looked at other solar products we found most of them to be unattractive or inconvenient to carry around or spent most of their time inside a bag away from the sun," Agust Agustsson said in a news release. "We wanted to design something that is always exposed to the sun, charges automatically as you go about your day and is appealing and more comfortable than what currently exists."
Skajaquoda's first Kickstarter campaign raised more than $75,000 (exceeding their $50,000 goal) for the Trinity wind-power generator. Set for delivery in January, the startup said it is preparing that device for manufacturing.
Source: http://www.bizjournals.com/twincities/blog/in_private/2014/08/skajaquoda-sun-strap-solar-charger-kickstarter.html