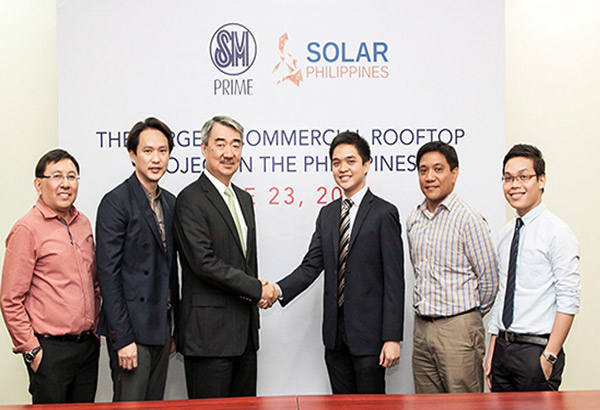 LARGEST COMMERCIAL SOLAR ROOFTOP: SM Prime Holdings Inc. president Hans T. Sy (third from left) shakes hands with Solar Philippines president Leandro Leviste to seal the deal for the construction of the largest commercial solar rooftop in the country. Others in photo are (from left) Christopher Bautista, SMPHI chief finance officer; Steven T. Tan, SMPHI senior vice president; Rhoel Carlo Gonzaga, Solar Philippines head design engineer and Aldren B. Samson, Solar Philippines business operations manager.
MANILA, Philippines - Retail giant SM Prime Holdings Inc. is building the largest commercial solar rooftop in the Philippines as part of its commitment to use clean, renewable and sustainable energy in its operations.
SM Prime president Hans T. Sy said a 1.5-megawatt (1,500 kilowatt) solar rooftop is currently being built at the SM City North Edsa which will be used to power up a significant portion of the mall's energy requirements.
The solar rooftop project, the largest of its kind on a commercial establishment in the country, will be operational by October this year and make SM City North Edsa the largest solar-powered mall in the world. It will be built by Solar Philippines, led by its president Leandro L. Leviste, the same company behind the other largest commercial solar rooftop installations in the country.
"SM Prime has always been committed to reduce greenhouse emissions and maximize energy efficiency in our malls. This is just one of many renewable projects we have been doing in our developments and we will continue with finding ways on how to make our operations more environmentally sound and sustainable," Sy said.
In use, solar energy produces no emissions. One megawatt hour of solar electricity offsets about one ton of carbon dioxide. Solar plants also produce electricity during peak hours when the grid supply is tight preventing power blackouts.
SM Prime also built a 1.1-megawatt rooftop solar power project in its Xiamen mall last year, the first and the most mature shopping mall in the group's growing portfolio in mainland China.
Business ( Article MRec ), pagematch: 1, sectionmatch: 1
The project involved the installation of 3,740 solar panels on the roof of SM City Xiamen Phase 1 and Phase 2 (SM Lifestyle Center), with a total investment of 13.2 million renminbi (RMB) or $ 2 million.
For its pioneering efforts in upgrading its services, SM City Xiamen was awarded the Mall China Golden Mall Awards 2014 Excellent Upgrade last April in Shanghai by the Mall China Information Center (or Mall China), the first non-profit organization in Mainland China catering to China's retail property sector and is the largest shopping center retail organization in China. Sy said: "SM Prime is constantly in pursuit of the highest level of operational efficiency. We want to significantly reduce greenhouse gas emissions and operating costs by minimizing electricity consumption. In line with this, we place strong emphasis in investing in the latest innovations in sustainable and energy efficient technology."
Sy stressed the need for greater sustainability and disaster-resiliency has been in the forefront of SM Prime's development because of the many disasters that had hit the nation the past decade.
"The impacts of disasters have become a growing concern not only with the government but especially for us in the private sector. We have all suffered from the devastating effects of disasters," he pointed out.
It is the reason why he said, private businesses should forge mutually beneficial public-private partnerships not only to protect businesses, both in the government and private sectors, but save lives.
"We have to address disaster assistance and mitigation issues in a holistic approach ... It has become a business case for all of us. We in the private sector play an important role not only with our own businesses, but also with our partners, our employees and the communities we serve," he noted.
Sy said private businesses should also put disaster resiliency on top of their priorities because it would be cheaper and more valuable in the long run. For the Mall of Asia complex, Sy pointed out, SM devotes around 30 percent of its budget to make the whole area disaster-resilient.
As a result, it had survived 50 typhoons, four earthquakes and two floods from monsoon storms since it was built in 2006.
Great strides were also implemented through sustainable designs of its other malls, notably in SM Marikina, SM Masinag and SM Muntinlupa.
Sy said SM Prime invests heavily in the longevity of its establishments to ensure continuous operation and safeguard the communities around them. He said their efforts paid off when SM Marikina and SM Muntinlupa survived the massive rainfall brought by tropical storms Ondoy and Pepeng in 2009. Not only did it survive the massive flooding because of the concrete stilts in the ground floor, SM Marikina became a refuge for stranded people and food seekers. It also became a repacking center for relief goods.
"The safety of the communities, employees, customers, and the facility structure remain top priorities in all SM Prime developments. As I tell my design teams ever so frequently, ensuring safety is the only way I can sleep well," Sy said.
Source: http://www.philstar.com/business/2014/06/26/1338931/sm-prime-building-largest-comml-solar-rooftop