A technology that a few years ago was widely considered too expensive and saddled with complicated paperwork to attract the average customer is hitting more homes across the country.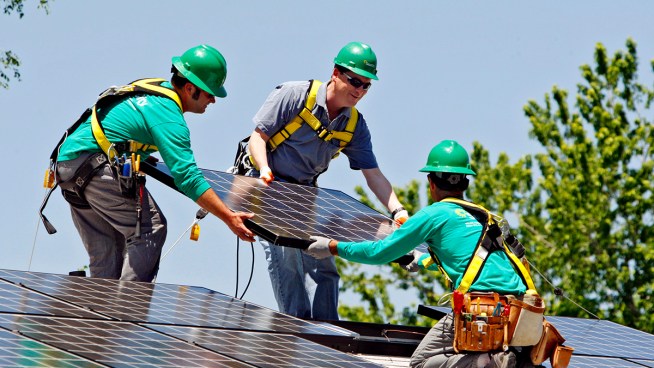 In this June 18, 2010, file photo, U.S. Senator Michael Bennet, D-Colo., center, helps as SolarCity employees Jarret Esposito, left, and Jake Torwatzky, install a solar panel on a home in south Denver. SolarCity, one of the nation's largest installers of rooftop solar systems, on Tuesday, June 17, 2014 announced it is buying Silveo, a solar panel manufacturer.
When San Francisco game developer Matt Householder installed solar panels on his rooftop four years ago, he wasn't thinking about saving the planet. He wanted to increase the value of his home.
"My thinking was the cost of installation was basically going to be recovered when I sold the house because it increases the value of the house as a fixture," Householder said. "It's like adding a bathroom."
Householder, 59, was an early adopter in a new wave of homeowners embracing the economic payoffs of switching to solar power. The average monthly cost of electricity in California in 2012 was $87.91, according to the U.S. Energy Information Administration. Householder said he pays just $250 for the entire year.
Now, a technology that a few years ago was widely considered too expensive and saddled with complicated paperwork to attract the average customer is hitting more homes across the country. And SpaceX and Tesla pioneer Elon Musk is vowing to bring the technology to even more people with plans to build one of the world's largest solar panel plants on U.S. soil.
Elon Musk's SolarCity to Buy Panel-Maker Silevo
Residential solar power is already seeing a boom, according to a recent report by the Solar Energies Industry Association and Greentech Media Company. The industry-funded report found that electricity-producing solar technology surpassed commercial installations for the first time since 2002 in the first three months of 2014. More than a third of residential installations reported during that time came on-line without any state incentives, according to the report.
Even with the surge in residential solar energy, solar energy is nowhere close to competing against homes still running on traditional electricity and gas.
The price tag of going solar continues to be a concern, especially amid projections that the escalating trade war between the United States and China, a major panel producer, will cause falling solar costs to rise again. But advocates of the energy source are turning their focus to streamlining the process and helping customers reap the benefits of rebates and tax incentives tied to solar power.
The "Hassle Factor" Removed
The complicated paperwork process to acquire permits and government rebates has been a leading factor deterring people from going solar, according to Tony Dutzik, senior policy analyst at Frontier Group, an environmental think tank.
"For many individuals, the challenge and the hassle factor is one thing that impedes them from going solar," Dutzik said. "In places where financing is available and where financing would help solar homeowners make the leap, people say it's too much trouble."
John Cremin, 48, a senior scientist living in Sunnyvale, California, installed 12 photovoltaic solar panels on his roof six years ago to reduce his carbon footprint. He said REC Solar, one of the nation's largest installers of PV solar panels, did all the paperwork and got him rebates.
"That was pretty helpful. I'm not sure I would have done it without that," Cremin said. On his list of concerns with going solar, "the rebate hassle and the regulatory hassle was No. 1," he added.
In neighboring Palo Alto, the first city in California to be certified as a Green Power Community by the U.S. Environmental Protection Agency, officials have expedited the paperwork process for homeowners.
Before the overhaul, which was completed in full in May 2013, the city's development center issued 50 permits in a 12 month period. Over the next year, they issued 250 permits.
"We were one of the most difficult cities to get solar permits through, and we did a lot of streamlining so we can process things in a few days as opposed to a few months," said Lindsay Joye, a marketing engineer for Palo Alto's utilities office.
Solar Leasing Vs. Buying
Many companies, SolarCity included, have started to let people pay off their solar system by the month instead of up front. The declining cost is expected to continue. One SolarCity executive told The Wall Street Journal that the company hopes to drive costs down so much that customers would be metaphorically "buying a BMW at a Ford price."
Debra Katz, the communications manager of the Palo Alto utilities office, said that people who once had to "come up with tens of thousands of dollars to start," will soon be able to take "the plunge" without rebates and incentives.
Solar leasing may be budget-friendly for consumers in the short term, but experts say they doubt the homeowner will reap any resale premiums unless they own the panels. Homeowners who own their solar panels can make a handsome profit, especially in California.
A December 2013 study from the Lawrence Berkeley National Laboratory found a premium of roughly $25,000 on homes in California with rooftop solar panels. Ben Hoen, a staff research associate at the lab who co-authored the study, said that figure was market dependent and likely different in other parts of the country. Still, he said "it is reasonable to assume" that houses in other markets with solar power could fetch a premium.
Steve Perkins, a resident of Evanston, Illinois, experienced that first-hand.
"Homes that have solar arrays sell fast. They move in the marketplace faster than those without, so that's a value," said Perkins, 71 and senior vice president of the Center for Neighborhood Technology, who was part of the first group of 28 people in Evanston to get solar-powered hot water from US Solar Network.
The higher resale value that the LBNL study found for California homes may help explain why the type of consumer who shops for solar panels isn't the environmentalist of yesteryear.
"A lot of our early investors were concerned about climate change," Joye said of Palo Alto residents, but today "we are definitely seeing people jumping in for purely economic reasons."
Further to Go
Slightly more than 600 homes in Palo Alto, roughly 2.4 percent of all residences, have solar technology, which Joye and Katz say is one of the higher penetration rates in the nation. In April, the city approved a solar plan that charted out initiatives to achieve what Joye calls a "pretty aggressive" goal of getting 4 percent of the community's electricity to be solar.
"There's obviously a lot of room to grow," Joye said.
Source: http://www.nbcbayarea.com/news/local/SolarCity-Expansion-Solar-Homes-Across-the-US-Green-264038981.html