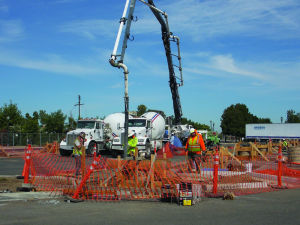 Workers Thursday pour cement in one of numerous pillars that
will hold up the solar panels at Santa Fe Elementary School.
By the time the new school year begins, the staff from Santa Fe Elementary School driving to work will be able to park their vehicles in a shaded parking lot.
On Thursday, the pouring of cement at Santa Fe Elementary marked Porterville Unified School District's last solar project of the summer.
Completed during the summer because it is the least disruptive time for education, the solar project included installations at Santa Fe Elementary, Vandalia Elementary and Pioneer Middle School, said Porterville Unified School District Superintendent John Snavely. Completed recently were other solar projects at Monte Vista Elementary and Bartlett Middle schools.
The combination of California Solar Initiative rebates and energy savings would be self-funding if there is enough savings and revenue to meet the repayment obligation, said Assistant Superintendent Ken Gibbs.
The solar projects included roof mounted, parking structure and ground mounted systems for several elementary and middle school sites, including Los Robles, Olive Street, Roche, Monte Vista, West Putnam, Westfield, Bartlett, and Sequoia, elementary and middle schools.
West Putnam and Belleview elementary schools' solar projects are pending, Snavely said.
Source:http://www.recorderonline.com/news/santa-fe-school-goes-solar/article_e8fe9944-fe5b-11e3-ae9e-001a4bcf6878.html