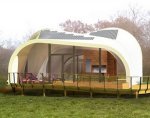 The solar powered Techstyle Haus, an entry in 2014 Solar Decathlon Europe, has roof and walls made of high performance textiles.
Designed and built by students from Rhode Island School of Design (RISD), Brown University and the University of Applied Sciences Erfurt, Germany, the Techstyle Haus features 5kWof flexible solar panels that will provide power surplus to the building's requirements. The monocrystalline PV cells are laminated to vinyl fabric and the curvature of the array allows more solar energy to be captured compared to a flat system.
The 90.82 m2 house also features a 5.93 m2 evacuated tube solar hot water system.
The fabric used for the home is a flexible fibreglass material called Sheerfill II Architectural Membrane with EverClean Photocatalytic Topcoat. This is most commonly used for roofs of domed stadiums and airplane hangars. Techstyle Haus is the first residential construction application for the material.
30cm of highly efficient fire-resistant insulation materials (mineral wool) that also dampen sound have been used beneath the textile skin.
The windows are custom triple pane glazed with 95% krypton fillers.
Heating the home is a air-to-liquid heat pump (Viessmann Vitocal 242-S) and the cooling system is a Daikin FDXS25F/RXS25K.
It's been quite a challenge for the team to reach Passive House Standard; which dictates a house must use 90 percent less energy for heating and cooling than a standard home.
"If someone had told me two years ago that students could design and build a home out of fabric that produces over 50% more energy than it uses I would not have believed it. I think we have all surprised ourselves and our communities," said Helen Bergstrom, Brown chemical engineering student and project engineer.
The team will deconstruct the house after the competition and reconstruct it at Domaine de Boisbuchet, the site of annual art and design workshops, where will it be used for student housing. Techstyle Haus will be monitored to test its performance and viability.
The 2014 Solar Decathlon Europe is taking place in Versailles, France until July 14.
Source: http://www.energymatters.com.au/index.php?main_page=news_article&article_id=4370